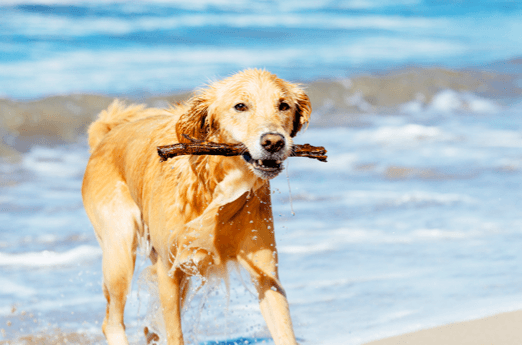 Plantation Bay is a dog owner's paradise that is filled with lots of room for your dog to roam and play, but the dog-friendly fun isn't isolated to just the Plantation Bay community! There are dog parks and dog-friendly restaurants located throughout the entire Ormond Beach area.
Whether you are looking for a great local park to get your dog some exercise or a local restaurant that won't mind you bringing a four-legged companion, there are plenty of options to pick from in and around Plantation Bay. Here are some resident favorites:
Michael Crotty Bicentennial Park
Based on a combination of size and location, as well as all of the wonderful dogs that frequent this park, Michael Crotty Bicentennial Park is the hands-down favorite dog park for many Plantation Bay residents. Located only 20 minutes from Plantation Bay, this four-acre dog park is almost always populated with dogs of all sizes and breeds.
The park has plenty of room for your dog to run up and down its grassy hills. There are also adequate watering stations and benches for owners who tire before their pets. There are separate areas for large and small dogs, so you won't have to worry about your yorkie getting run over by a great dane.
There is no charge for admission to Michael Crotty Bicentennial Park, and visitors are welcome from sunrise to sunset.
Lighthouse Point Park
While it is a bit further drive than Michael Crotty Bicentennial Park, Lighthouse Point Park is also a favorite for the dog lovers at Plantation Bay. Located just south of Daytona Beach, this park is the perfect place to let your pet pose for stunning beach photos.
The park is right on the beach and contains a fantastic view of the Ponce Inlet Lighthouse. While dogs are welcome here, the park does require that they remain on leashes. The park is open from sunrise to sunset, and there is a charge of $5 per car to enter.
Dog Friendly Restaurants
In addition to great dog parks, Ormond Beach is also home to quite a few dog-friendly restaurants. Restaurants like Lagerheads Bar and Grill, Hull's Seafood, and Brunch Shack will all welcome your pet and even give them a bowl of water.
It's one thing to accommodate dogs, but Lulu's Oceanside Grill takes "dog-friendly" to a whole other level by actually having a menu for dogs that includes items like mini burgers, chicken, biscuits, and even filet mignon.
Dog Safety Tips
While summer is a great time to take your dog to local dog parks and dog-friendly restaurants, it is important to keep their health and well-being in mind. Too much exercise and activity should be avoided on extremely hot days, and you should always make sure that your pet has plenty of water.
If you are heading to Lighthouse Point Park, keep in mind that drinking saltwater can make your dog sick. If you dog decides to venture into the water, make sure that you are conscious of his or her swimming abilities. Don't allow them to overdo it, and never force them to do anything they don't want to do.
There are plenty of great places all around Ormond Beach for dog-lovers to take their companions. Each of these places can be an excellent opportunity for your dog to exercise and socialize with other dogs. Regular trips to local dog parks and dog-friendly restaurants are a great way to enrich your dog's life, as well as your own!