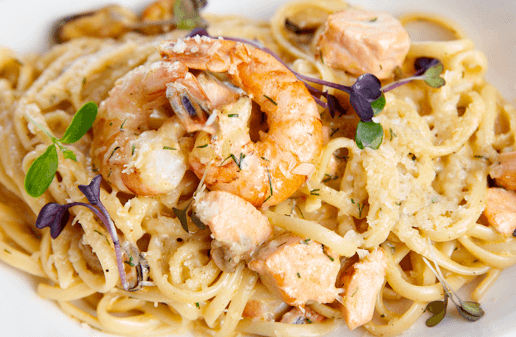 One of the great things about living in Plantation Bay is that we are perfectly situated to take advantage of the very best BOTH Volusia and Flagler Counties have to offer.
Flagler County is known for having an outstanding collection of great restaurants and creative chefs. In an effort to celebrate and promote all of the restaurants that contribute to the county's dining environment, the Flagler County Chamber of Commerce is currently promoting Flagler Restaurant Week.
Flagler Restaurant Week is a new-and-improved version of The Taste of Flagler, which was a one-night event that was previously held to promote area restaurants. The current promotion requires no tickets or coupons of any kind. Residents and visitors are simply encouraged to patronize their favorite local restaurants.
The event officially started on Friday, April 25, and will last until Friday, May 9. Many of the participating restaurants will be serving Restaurant Week Specials during this celebration.
VIP Kick-Off Party
Flagler Restaurant Week started off with a bang when Marineland Dolphin Adventure hosted a VIP Kick-Off Part on Thursday, April 24.
Guests at the VIP Kick-Off Party were treated to appetizers and food samples, drinks, and live entertainment. They were also able to tour the entire Marineland Dolphin Adventure, and some special guests were able to go on an Under the Sea VIP tour.
Flagler Dining Passport
One of the highlights of Flagler Restaurant Week is the Flagler Dining Passport. Diners can get their punchcards stamped at any of the participating restaurants during Flagler Restaurant week, and the diner who logs the most visits during the promotion will be awarded the title of "Flagler Foodie."
The Flagler Dining Passport winner will receive a special price and an award from the Flagler County Chamber of Commerce. The award will be presented during the Tourism Week Celebration. All diners wishing to enter must submit their passports to the Chamber of Commerce by 4 pm on May 9.
Participating Restaurants near Palm Coast
• A Fusion of Fine Eating
• Burrito 101
• Canfield's at Palm Harbor Golf Club
• Captain's BBQ
• Farley's Irish Pub
• Giabella Restaurant & Pizzeria
• Grace's Place
• Houligan's
• JT's Seafood Shack
• Kokoro Sushi Bar
• Sweet Waters Smokehouse Bar and Grill
• Woody's Bar-B-Q
Participating Restaurants near Flagler Beach
• Back to Eden Cafe
• BeachHouse Beanery & Cafe
• Blue at the Topaz
• Break-Awayz at the Beach
• Finn's Beachside Pub
• Fisherman's Net
• Hi Tulip Cafe
• Johnny D's
• Sweet Waters Smokehouse Bar and Grill
Instagram Participation
You can follow along with everyone who is participating in Flagler Restaurant Week by searching Instagram for #FlaglerFoodie. This is the official hashtag for Flagler Restaurant Week and is a great way to see pictures of all of the great food and drinks that are being served throughout our community.
You can also contribute to the #FlaglerFoodie community by posting pictures of your own dining experiences and including the hashtag. If you aren't an Instagram user, you can still view the pictures on your web browser.
The goal of Flagler Restaurant Week is to promote the fact that there are a number of tremendous restaurants and chefs throughout our community. This provides Plantation Bay residents with a perfect excuse to go out and support them!