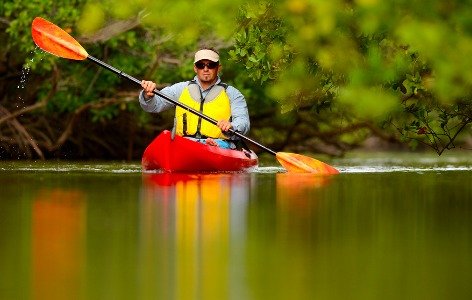 Believe it or not, one of the absolute best ways to experience all of the great nature environments that surround Plantation Bay is from the seat of a kayak!
Between the Tomoka River, the marshes of Faver-Dykes State Park and the Atlantic Ocean, we are literally surrounded by beautiful and interesting natural waterways that are begging to be explored.
Some areas of these waterways are so remote that kayaks are actually the only way to get to them.
Learning to Kayak
Even if you have never paddled a kayak before, you can learn the basics in minutes. Many local tour companies like Ripple Effect Ecotours have instruction programs that will get you up to speed quickly. These helpful instructions will explain the different types of kayaks and paddles, as well as proper paddling techniques and safety precautions.
If you have some kayaking experience, but would like to better hone your paddling skills, there are instructors that can help you with that as well. As your paddling skills improve, you might consider learning additional techniques like edging, sculling, the low brace, and the high brace.
Once you feel comfortable enough to hit the open water, there is no shortage of places to see. Here are some of the local tours that make great places to start:
Tomoka River State Canoe Trail
One of the most popular canoe and kayak locations is the Tomoka River State Canoe Trail. Paddlers who launch from Riverbend Nature Park can make their way as far as four miles upstream, or they can proceed downstream for five miles heading towards Tomoka State Park. You will see plenty of wildlife along the way, including alligators and even manatees at times.
Faver-Dykes State Park
Another great place for kayak tours is Pellicer Creek, which runs through Faver-Dykes State Park. Ripple Effect Ecotours has multiple tour options in this area, and some of their tours even include admission into Marineland Dolphin Adventure.
While exploring the salt marshes of Faver-Dykes State Park by boat, you are likely to encounter river otters, dolphins, manatees, and dozens of different types of birds. The main attraction in this area is the bald eagles that make their home in the park.
Kayak Fishing Tours
Probably the fastest growing segment of the kayak tours industry is kayak fishing tours. Your kayak will allow you to get way out into the best parts of some local waterways without a boat engine to scare off the fish! Fishing directly from your kayak is a great way to combine two of the most relaxing outdoor experiences out there!
It makes no difference whether you are a seasoned paddler or can't tell the difference between a kayak and a canoe. There is a way for people of all skill levels to enjoy the relaxing experience of paddling around some of the beautiful local waterways! The next time you are looking for a fun weekend activity in the areas around Plantation Bay, schedule yourself a kayak tour, and don't forget your life jacket!