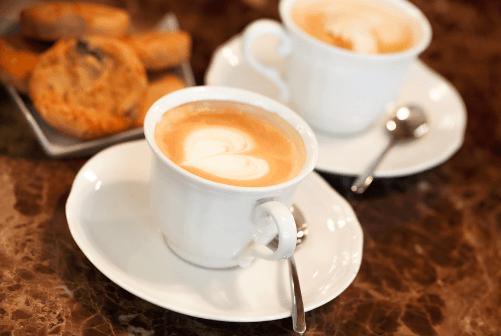 According to Statistic Brain, 54% of Americans over the age of 18 drink coffee on a daily basis.
Of those approximately 100 million coffee drinkers, 63% get their coffee from places outside their own homes.
Whether we are talking about a cup of Dunkin' Donuts original to start your day or a Starbucks Strawberry Frappuccino while meeting friends in the evening, coffee has become an essential aspect of many of our lives.
Luckily for Plantation Bay residents, we are surrounded by plenty of great options.
If you are partial to a particular brand like Starbucks or Dunkin' Donuts, there multiple locations for each nearby. If you prefer the charm of an independent coffee shop, there are also some great locally owned places to get your morning java.
If convenience is your primary concern, it's hard to beat the fact that there are two clubhouses located right here in the community that also serve coffee. Start your day with a cup of Joe and a chat with friends and neighbors.
However, if you are going to venture out in search of coffee, here are some of the places to check out:
Starbucks
If Starbucks is your coffee of choice, there are plenty of options to pick from. The most convenient one to Plantation Bay is on Granada in Ormond close to I-95, about 15 minutes away. There's also one about 12 minutes north of Plantation Bay inside Super Target in Palm Coast.
If you are heading further south instead, you will find three in Daytona Beach, and two more down in Port Orange.
BIGGBY Coffee
Just past the Starbucks on Granada right before you get to Lowe's is BIGGBY Coffee.
BIGGBY is a privately-owned coffee franchise that started in East Lansing, Michigan and has recently landed in Florida. In 2011 they were named the fastest-growing coffee chain in America by CNBC.
In addition to their extensive coffee selection, BIGGBY also has a fresh selection of specialty cookies and baked goods, fruit cups, yogurt parfaits, bagel sandwiches, and more.
Dunkin' Donuts
It seems that for every Starbucks located in our area, there is a Dunkin' Donuts to match. The closest store is located just 15 minutes north of Plantation Bay. It has a large indoor seating area and plenty of outdoor seating as well. There is also no shortage of Dunkin' Donuts locations in Ormond Beach and Daytona Beach if you are headed in that direction.
BeachHouse Beanery
When you are looking for a unique coffee experience, the BeachHouse Beanery in Flagler Beach is the place to go!
In addition to all of your favorite coffee drinks, this shop also offers breakfast sandwiches, homemade muffins, and fantastic quiche. The best part is that they have an outdoor seating area with a direct view of the beach. Located right on A1A, the BeachHouse Beanery is only a 15-minute drive from Plantation Bay.
Depending on the type of coffee experience you are after, there are a number of different places to go around Plantation Bay. If you are looking for your favorite Starbucks or Dunkin' Donuts flavors, there are lots of options nearby. If you are looking for a unique experience in a locally owned shop, you can do that too! If convenience is your biggest concern, just run down to one of the clubs. There is certainly no shortage of great coffee options nearby!