For most of us, January represents a fresh start after end-of-the-year holiday hullabaloo. We're eager to turn the calendar and tackle assorted goals and projects, and there's no better place to do it than at Plantation Bay Golf & Country Club.
This master-planned community in Ormond Beach is one of ICI Homes' signature properties.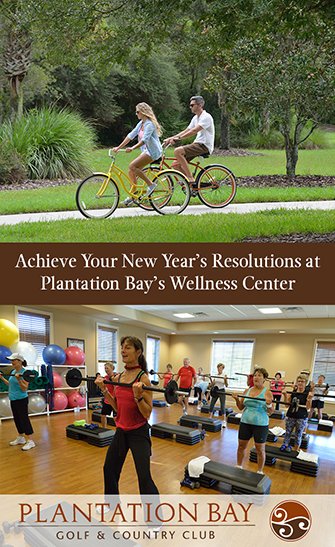 Its convenient location near pristine Atlantic beaches and Interstate 95 puts all of east central Florida's recreational, cultural and lifestyle opportunities within easy reach, while inside Plantation Bay, residents enjoy the area's top amenities.
How about 45 golf holes, amazing swimming pools, fitness center, spa and sports courts? Check! Fitness trails throughout this 3,600-acre community? Check! A vibrant dining and social calendar at many of these venues? Check!
Luckily, this smorgasbord also provides the resources to tackle New Year's resolutions right at home — especially if one of those goals is a healthier you.
Here's how to achieve your New Year's resolutions at Plantation Bay's Wellness Center.
Community-centered fitness
Let's be real: starting a new year strong and focused takes some work. Committing to decluttering your closets or fine-tuning your work-life balance requires intention. But once you're clear on your goals, start with some easy first steps to build momentum.
Plantation Bay residents can take those steps at the community's Wellness Center. Here you'll find the two resort-style swimming pools, fitness center, full-service spa and sports courts under the same roof or just outside it.
A lovely, Low-Country-style brick building houses the fitness center and spa. Steps away are the pool pavilion with its cabana, basketball courts, two Bocce ball courts, four pickleball courts and 10 Har-tru tennis courts. Coursing through Plantation Bay's neighborhoods and beautiful natural settings are the three golf course and miles of trails and sidewalks.
If you're a new Plantation Bay resident or thinking about becoming one, that New Year's resolution to achieve a healthier you is easy here. Just know that a membership is required to enjoy many Plantation Bay facilities. Preview those choices here.
Ready-made support
Pursuing a healthier lifestyle often means being more physically active (and cleaning out your pantry). We at ICI Homes can't help you with the pantry, but we're happy to offer some activity ideas.
At the Wellness Center, consider personal training sessions or group fitness classes. Start slow and safe on weights and cardio machines. Plantation Bay's fitness and spa director can offer guidance, as can the spa's physical- and massage-therapy pro.
Does competition sound like a fun route to a healthier you? How about a new sport? Take tennis and pickleball lessons, then join Plantation Bay's existing leagues. You'll likely meet new friends and widen your social circle, which can be an important part of community wellness too.
Ready for your Plantation Bay lifestyle this new year? Talk to us here.