Many new east central Florida residents may know the greater Daytona Beach area is home to NASCAR, the world's top stock-car racing series, and Daytona International Speedway, one of motorsports' premier facilities. However, they may not know the town of Ormond Beach just north of Daytona Beach pre-dates NASCAR as the "Birthplace of Speed."
If you're seeking a new custom Florida home here, check out this cool slice of automotive history.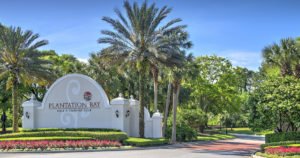 While you're at it, check out Plantation Bay Golf & Country Club as the Ormond Beach location for your new custom Florida home. Plantation Bay is located only 10 minutes from the sands where early drivers made automotive history, and it's loaded with resident amenities.
Plantation Bay also happens to be one of ICI Homes' signature properties. We've built homes all over the state for more than four decades and are known as Florida's Custom Home Builder. We're proud to call the Daytona Beach area our home, and are happy to share why Plantation Bay's hometown is known as the "Birthplace of Speed."
History lesson
Using photos of Ormond Beach's wide, hard-packed sand,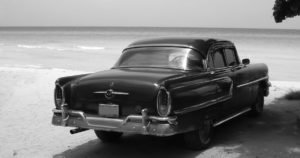 enterprising locals lured car owners and drivers from elsewhere to compete in time trials on the beach at the early 1900s.
The first event was held in March 1903, with Alexander Winton driving The Bullet and H.T. Thomas driving the The Pirate to decide the inaugural Ormond Challenge Cup.
Thus was born what we now know as world land speed record attempts. These time trials sometimes extended to Daytona Beach and further south to Ponce Inlet. By the 1920s and 30s, Ormond Beach's annual time trials had become a major event for many car owners and drivers.
World land speed record efforts migrated west in September 1935, to the salt flats in Bonneville, Utah. All such record-breaking attempts continue to stage there.
NASCAR organizers followed a similar script by staging races on area beaches in the 1930s, 40s and 50s. Those ended with Daytona International Speedway's debut in February 1959.
Go exploring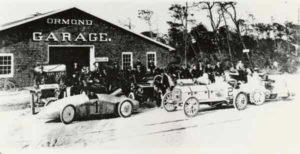 Several traces remain of Ormond Beach's role as the "Birthplace of Speed." The original Ormond Garage, built in 1904 to house time-trial participants and machines, was a local landmark until destroyed by fire in 1976. Look for a marker at 113 E. Granada Boulevard.
Bricks from its floor are exhibited at the Motorsports Hall of Fame of America, located in the DIS Ticket & Tours Building in Daytona Beach.
A smaller Ormond Garage replica stands at Birthplace of Speed Park at the intersection of Granada Boulevard and A1A, Florida's Atlantic Coast highway.
Today's Ormond Garage
A craft brewery called the Ormond Garage is housed in a circa-1919 garage at 48 W. Granada Boulevard.
The restored building is filled with time-trial and racing replicas and memorabilia. This Ormond Garage offers craft brews and food, and hosts events.
Ready for your Plantation Bay lifestyle? Talk to ICI Homes here.