Residency at Plantation Bay Golf & Country Club gives you so much to do within the community that you never need to leave. Except maybe to buy groceries.
But, once you've had your fill of golf, tennis, swimming, and time at the spa and fitness center, you'll want to explore your slice of east central Florida. It's historic, timeless, gorgeous and — as of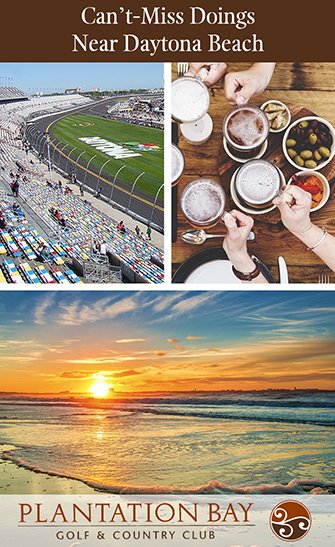 this writing — growing madly.
But if you're new to Plantation Bay, or strongly considering buying or building a new custom Florida home here, you should know there's endless amusement available in Plantation Bay's home counties of Volusia and Flagler.
Only a few miles and minutes to the south lies Daytona Beach, one of Florida's iconic destinations and the fount of many happenings that'll intrigue you.
Here's a slice of what's happening in the Daytona Beach area.
Why Daytona Beach?
Plantation Bay is located in Ormond Beach, the charming town north of Daytona Beach.
Ormond Beach is known as the "Birthplace of Speed," thanks to Gilded Age millionaires who spent their winters racing early automobiles on its shores.
Similarly, Daytona Beach is home to Daytona International Speedway, A.K.A. the "World Center of Racing," and NASCAR.
Daytona Beach also is the "World's Most Famous Beach," a destination for vacationers. Which leads us to…
Daytona International Speedway and the Motorsports Hall of Fame Museum
Start here even if you're not into auto racing. The 2.5-mile racetrack opened in February 1959 with the first Daytona 500, and remains a magnet for all sorts of racing, festivals, concerts and even proms for area high schools.
Three different tours take you inside the mammoth facility. You'll see the four 31-degree-banked turns, and travel down pit road, into Gatorade Victory Lane and the infield media center. If there's no track activity when you visit, your tour guide might stop on the apron below the massive frontstretch and allow you to try to walk its 18-degree banking.
Tours end at the Motorsports Hall of Fame Museum, which spotlights all major motorsports series in North America. You'll see the reigning Daytona 500 champion car, many historic racing vehicles and other exhibits.
The Halifax Arts Festival
Held each November along historic Beach Street in Daytona Beach, this two-day event is a go-to source of handmade, original art. It's Florida's second oldest continuous arts festival; the 2019 event being the 57th.
Any medium you imagine will be represented among the more 250 selected artisans. In fact, if you're decorating a new Plantation Bay home, you may find everything you need right here.
Don't forget to check out the stores and restaurants along Beach Street. They're perfect for grabbing lunch, an end-of-day libation, or to bookmark for a return trip.
Greek Festival Daytona
If you love the Halifax Arts Festival, the Greek Festival is the next natural must-see.
The St. Demetrios Greek Festival has been a "DAB" fixture for more than 40 years. It's anchored by the St. Demetrios Greek Orthodox Church on Halifax Avenue, and offers immersion into Greek culture — food, drink, dancing, music and more.
Admission is free. Shuttle service is available for outlying parking areas.
Ready for your Plantation Bay lifestyle? Talk to us here.