Are you a new Plantation Bay Golf and Country Club resident? Perhaps in the wannabe or planning stages of becoming one?
There's one classic activity you must pencil in at some point, and we don't mean your first visit to the homeowners association office!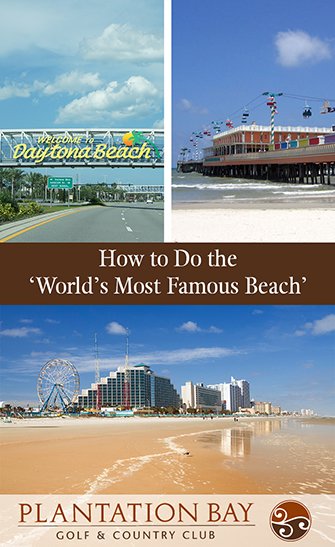 No, when you're taking up residence, or considering doing so in the greater Daytona Beach area, you must do as the locals do and check out the actual Daytona Beach, otherwise known as the "World's Most Famous Beach."
Located just south of Ormond Beach, Plantation Bay's hometown, Daytona Beach was an attraction long before 20th- and 21st-century advertising campaigns. Much of its natural and cultural appeal remains timeless. Maybe you even "matriculated" here at some point for a high-school or collegiate spring break.
Regardless of your familiarity with Daytona Beach, it's worth the short drive south to check it out. Here's our take on how to do the "World's Most Famous Beach."
For best results, go at low tide
A bit tongue-in-cheek, but the tide goes far out on this part of Florida's Atlantic coast, and you'll have much more room to roam, with firmer footing.
Officially, there's 23 miles of Daytona Beach — take Exit 260 off Interstate 95, follow the signs east and you'll be right in the middle of it.
Volusia County's beachside parks in that area — four-acre Sun Splash Park is the best known — offer free parking, restrooms, picnic tables and showers. There are other paid lots, such as the municipal parking garage behind the giant Hilton Hotel, or you can park on the beach.
Which brings us to…
Drive on the "World's Most Famous Beach"
Another reason you want to visit at low tide.
As of this writing, 18 of Daytona Beach's 23 acres are drivable, with five set aside for folks who don't want to share space with vehicles.
Do it once to say you did, and have a passenger take photos and videos. There is a $20 charge per vehicle, but it allows you to park all day on the beach. There is no charge for pedestrians or cyclists. Get the particulars here.
Do what the tourists do
Actually, plenty of locals do these things too!
Daytona Beach as a tourist attraction is quite historic. Stroll the historic Boardwalk above the beach and ride the cheesy rides, eat things you shouldn't like cotton candy and corn dogs, then attend an in-season concert at the historic Bandshell.
Don't miss the historic Pier — you can't; it's that obvious. But walk all the way to the end and watch anglers pluck fish from the blue Atlantic below. Be sure to turn around and snap a photo or two of the beach behind you. It's quite the panorama.
Ready for your Plantation Bay lifestyle? Talk to ICI Homes here.