Plantation Bay Golf & Country Club residents soon will have the opportunity to enjoy another state-of-the-art amenity in their community. A new Club de Bonmont clubhouse is being built to replace the existing 1980s structure. The current clubhouse will continue to serve users until the new one opens; tentatively spring 2023.
But the new one? Wow!
If you're searching for a new custom Florida home in the east central part of the state,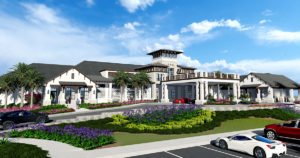 the new Club de Bonmont clubhouse represents the latest reason you shoulder consider Plantation Bay.
Plantation Bay is one of ICI Homes' signature properties, offering 45 holes of golf, social, dining and event scenes, not one but TWO clubhouses (Prestwick is the second), resort-style swimming pools, a full-service spa and fitness center, plus basketball, tennis and pickleball courts.
Second, miles of sidewalk and trails course throughout Plantation Bay, which totals over 3,600 acres, many of which are conservation areas.
And third, Plantation Bay's convenient location just west of Interstate 95 in Ormond Beach puts residents within easy reach of Jacksonville and St. Augustine to the north, and Daytona Beach and the 1-4 corridor to Orlando, to the south.
Here's more on Club de Bonmont clubhouse 2.0.
Space and versatility at the new Club de Bonmont
The new structure's 40,500 square feet will include three levels, access for all users, expandable event, dining and social spaces, and interior design by Tom Hoch of the eponymous Oklahoma City, Oklahoma-based Tom Hoch Designs, Inc.
Hoch helmed a recent interior-design project for a new golf pro shop at Augusta National Golf Club in Augusta, Georgia,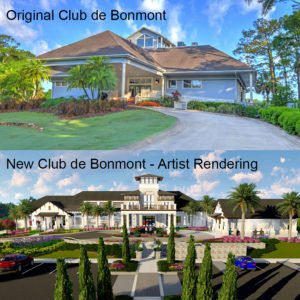 which is home to The Masters golf tournament.
At the new Club de Bonmont clubhouse, users will enjoy indoor and outdoor spaces, a new golf pro shop, two bars, and room for 600-person events rather than the 200-person capacity in the current Club de Bonmont clubhouse.
Golf-cart storage will be on the ground level, with social, event and Plantation Grill dining spaces on the main level. Employee work space will be on the third level. Plentiful parking will surround the new clubhouse along with overflow parking.
The new clubhouse is being built near the current driving range. The old clubhouse site will be used for future housing.
A gift to Plantation Bay
The new Club de Bonmont clubhouse is particularly meaningful for ICI Homes' founder and CEO, Mori Hosseini.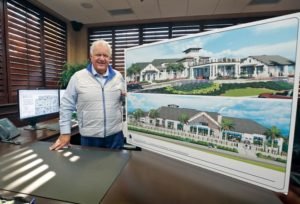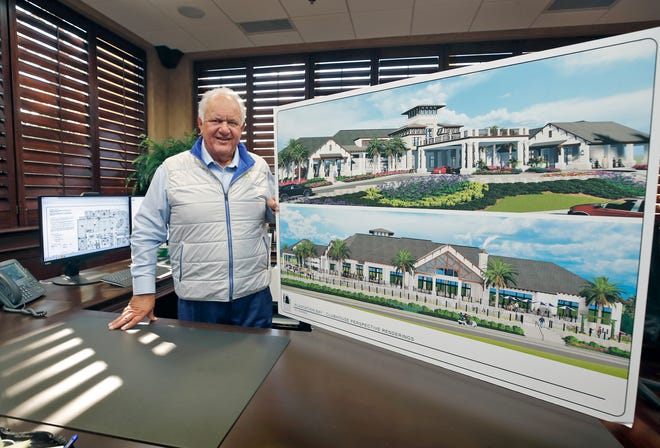 A Plantation Bay resident himself, Hosseini views the new clubhouse as a gift to fellow and future neighbors. He'd hoped to replace the existing clubhouse much sooner, but feels that now is the perfect time.
"This is a one-of-a-kind clubhouse," Hosseini told the Daytona Beach News-Journal in early January. "I want to do this as a legacy for me. I want to leave it for our residents at Plantation Bay."
Ready for your Plantation Bay lifestyle? Talk to ICI Homes here.