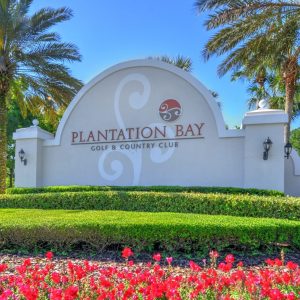 Just when you thought East Central Florida's top master-planned community couldn't possibly get better — well, it is!
Plantation Bay Golf & Country Club, located in Ormond Beach, is one of ICI Homes' signature properties, It's a must-see for prospective home buyers interested in this region of Florida's Atlantic coast, and the reasons why just continue to multiply.
One, it's a very large community. Less than half of its 3,600 acres are developed, and huge swaths of it won't be, to preserve flora and fauna and Plantation Bay's gorgeous surroundings. This also means plenty of room for future new custom Florida homes!
Two, Plantation Bay's size easily accommodates the region's top resident amenities. Like 45 holes of golf, two clubhouses, a Wellness Center with two resort-style swimming pools, a full-service spa, fitness center and poolside cabana, plus tennis, pickleball, bocce and basketball courts.
Three, all this enormity not only allows room for future neighborhoods, but more things to do.
Read on to discover the newest resident amenities on the horizon at Plantation Bay.
The new clubhouse
This 40,500-square-foot jewel replaces the existing 1980s structure, and its many upgrades seem endless. The new three-level Club de Bonmont Clubhouse will be completely accessible to all, offering versatile event space for up to 600 people, indoor and outdoor social spaces, new dining menus, two bars, a new golf pro shop, and greatly expanded parking.
This exciting amenity is scheduled to be done over the summer of 2023! With it
More places to play pickleball
It might be the hottest racket sport in the U.S., and Plantation Bay pickleballers now have something to anticipate. The Wellness Center's four courts stay busy with league and pickup games, but very soon, the number of courts will expand to a total of 10.
Construction to add six new courts is targeted to begin sometime around the month of May. The expansion is scheduled to include a new covered sitting area and a walkway to the pickleball courts.
New additions to the golf scene
With 45 holes in their backyards, Plantation Bay golfers have almost unlimited opportunities to hone their games. But opportunity also exists away from the Club de Bonmont, Prestwick and Westlake courses.
Along with the full-length driving range, short-game practice area, the Prestwick course's special aqua range, and a golf instruction center, Plantation Bay golfers now can enjoy some of the latest technology — a new Trackman teaching system that provides swing analysis. It's a great head start on improving your swing with the aid of Plantation Bay's professional golfing staff.
As a reminder: memberships aren't required for Plantation Bay residency. But residents do need a membership to enjoy the community's many amenities. Several options are available; details are here.
Ready for your Plantation Bay lifestyle? Talk to ICI Homes here.