Plantation Bay Golf & Country Club residents are a short drive to Flagler Beach, boasting mouthwatering coastal cuisine that will satisfy the whole family.
This signature ICI Homes property lies approximately five miles from the northernmost beaches of its hometown, Ormond Beach. Take A1A, a main coastal highway on Florida's East Coast, north just a few more miles and you are at its "other" hometown, Flagler Beach.
This all means beach days can be a daily occurrence if you live in Plantation Bay. Proximity to beaches is a major draw for many new Florida residents, and this part of Florida's east central coast rocks some spectacular ones.
So load up the gear, but hold off on packing those coolers!  We at ICI Homes have some tips on coastal cuisine in Plantation Bay's "other" hometown — Flagler Beach.
Where is Flagler Beach, exactly?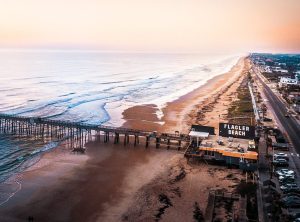 Don't fret if you're a new or prospective Plantation Bay resident and aren't familiar with Flagler Beach. Each beach town sports its own vibes and beaches, including Plantation Bay's hometown of Ormond Beach. Here you'll find history, a growing dining scene, beachside public parks, and miles of unspoiled natural beauty along A1A.
Flagler Beach is the next stop north of the Ormond Beach area, just over the Flagler County line. Access it via A1A from Ormond beach (a gorgeous drive) or take Interstate 95 north approximately 10 miles to the State Road 100 exit. Head east three miles and you're in the midst of Flagler Beach.
Coastal cuisine that's worth the trip
Whether you're in for a beach day, or just want to while away a weekend afternoon, Flagler Beach can take care of all your sustenance needs. This fun, funky beach town is renowned for its locally owned restaurants, pubs, and sweet shops. Below are a few suggestions.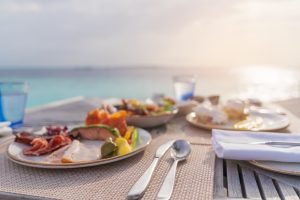 Breakfast at the Funky Pelican — this eatery is part of the historic Flagler Beach Pier and serves breakfast, lunch, and dinner with amazing views of the red-gold sand and emerald Atlantic waves. It's also a good choice for morning waffles and omelets with sunrise views.
Sandwich shops — if sandwiches are your lunch thing, Flagler Beach is your lunch place. Many establishments below prioritize homemade ingredients and local provisions. All offer ocean views across A1A (Oceanshore Boulevard).
You'll find everything from gourmet grilled cheese at Vessel Sandwich Co. to the classics and their accompaniments at Pompano's 6th Street Deli, to stuffed paninis on homemade bread at Faro Beachside Eatery. Recruit a friend or family member to conquer one of the big subs at Beach Belly Bob's Breakfast and Sandwich Shop.
Flagler Beachfront Winery — end a Flagler Beach visit by enjoying wine slushies. These icy original mixes are perfect with appetizers and come in unique fruity flavors. The Winery also stocks plenty of bottles for a classic pour.
Ready for your Plantation Bay lifestyle? Talk to ICI Homes here.