Plantation Bay Golf & Country Club's hometown of Ormond Beach has snared another award! It's included in Tripadvisor's Travelers' Choice Awards 2021 — Top 25 Beaches for the United States.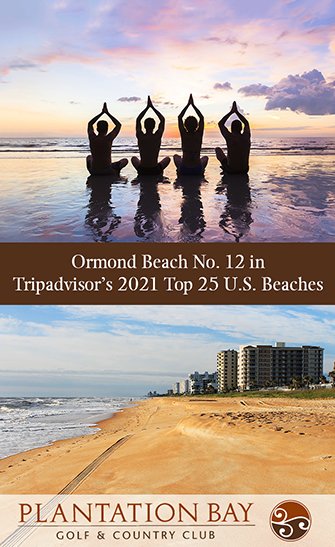 The online travel company features annual "Best of the Best" rankings chosen by users in numerous categories, and Ormond Beach is ranked No. 12 in the 2021 roundup of U.S. beaches.
It was cited for being close to Daytona Beach, but with less hubbub and crowds, yet plenty of dining and activities within walking distance of lodgings.
Plantation Bay residents know all about that. Their hometown beaches range from those in Ormond Beach's historic downtown near the intersection of Granada Avenue and A1A, Florida's Atlantic coast highway — where the scene is a bit livelier — to several miles north at North Peninsula State Park, where uncrowded sand and surf await.
In fact, one of many perks of living in this master-planned community is the proximity of east central Florida's beaches to Plantation Bay. There's no need to sweat a long drive! Only five miles separates residents from an enjoyable experience at a pristine beach.
But, if you're seeking a new custom Florida home at Plantation Bay, don't rely only on our word at ICI Homes about the awesomeness of Ormond Beach's beaches. Let's "dig" deeper into Tripadvisor's rankings.
Survey says…
Half the top 10 on Tripadvisor's Travelers' Choice Awards 2021 — Top 25 Beaches for the United States — are Hawaiian beaches. Here are some of the ones located in Florida!
No. 1 is St. Pete Beach, in the Tampa Bay-area.
No. 9 is Maderia Beach, also on Florida's central Gulf coast, six miles north of St. Pete Beach.
No. 12 is of course, Ormond Beach.
No. 13 is Henderson Beach State Park in Destin, Florida, on the Panhandle.
No. 15 is Pensacola Beach in Pensacola Beach, Florida, also on the Panhandle.
No. 16 is Treasure Island Beach, on Florida's central Gulf coast, also in the Tampa Bay region.
No. 17 is Siesta Beach on Siesta Key, on the southwest Gulf coast.
No. 18 is Clearwater Beach in Clearwater, Florida, also in the Tampa Bay region.
Let's go to the beach
Need a reminder how convenient this is?
Exit Plantation Bay's main entrance and turn right on Old Dixie Highway. You're heading east, crossing Interstate 95 and continuing until you reach Walter Boardman Lane. Turn left.
Civilization quickly recedes along the historic two-lane roads in this area. They're popular cycling routes, so watch for cyclists.
At a stop sign, turn right on High Bridge Road. Wind past coastal hammocks and marshes, and over several small bridges. The final bridge spans the Atlantic Intracoastal Waterway. Once you cross that, look for North Peninsula State Park's entrance on the left.
Or, continue until High Bridge Road dead-ends at A1A and the Atlantic Ocean.
Ready for your Plantation Bay lifestyle? Talk to us here.