What's the best way to research a master-planned community that might be perfect for your dream, retirement or vacation home? Short of summoning a genie in a bottle?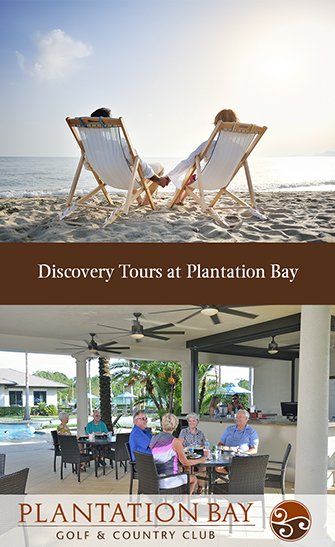 It's called a Discovery Tour, and we at ICI Homes invite you to consider a tour (not a genie) if you're intrigued by Plantation Bay Golf & Country Club in Ormond Beach.
Discovery tours give you the opportunity to experience Plantation Bay first hand by spending a few days in one of our beautifully furnished club villas. You can dine at the clubs, enjoy our amenities, and more.
Plantation Bay is one of our signature master-planned communities in east central Florida. You won't find a better landing spot for that active, fun lifestyle you seek, either as a full-time or seasonal resident.
It's a marquee address, and so popular, picturesque and stocked with resident amenities that we host Discovery Tours for it. Plantation Bay also is one of nine master-planned communities in the "Best Golf Communities" category of ideal-Living magazine's "Best of the Best 2020 Community Awards."
The magazine focuses on the master-planned community lifestyle and readers targeting a dream retirement home, or vacation getaway.
In fact, 90 percent of respondents in a survey conducted during ideal-Living's live Winter 2020 shows in northeast, midwest and mid-Atlantic population centers, said they intended to use discovery travel to experience the communities where they might want to relocate.
Here's how to discover Plantation Bay.
Nab your spot on our waiting list
As of this writing, ICI Homes' Discovery Tours are on hold due to covid-19. We can't host you just yet, but we're working hard behind the scenes to resume Discovery Tours the moment we're cleared to do so.
Click here to join the Discovery Tour waiting list at Plantation Bay.
While you wait, research all the resources available at our website, and at ICI Homes' website. The latter is where you'll find plenty of virtual browsing tools such as 3D and interactive video, tours and floor plans.
Then, you'll be ready when you get the green light from us.
What you experience with our Discovery Tours
Plantation Bay is a 3,600-acre gated community that's bounded by natural preserve areas and coastal-forest green spaces.
But let's begin with 45 holes of golf and two clubhouses. How about a full instructional center — tour it virtually here — outfitted with the latest technology? Practice ranges that include a full-length driving range and an "aqua" range that hones your driving ability over water?
The Club de Bonmont and Prestwick courses each are 18 holes, while the Westlake course features nine, with the back nine and a third clubhouse on the drawing board. Expect men's and women's league play, youth camps and tournaments.
Also available? Tennis, pickleball and basketball courts. A wellness complex offers a fitness center, full-service spa and resort-style swimming pools.
Enjoy the social and dining scenes at the Club de Bonmont and Prestwick clubhouses. Walk, run or cycle the miles of community trails. Beach enthusiast? You're only 10 minutes west of gorgeous Atlantic sand.
Ready for your Plantation Bay lifestyle? Talk to us here.