So, you're looking for a new Florida home, and you want more from it than a new address. You also want more from your new neighborhood than homeowners association fees. If you're targeting Central Florida, we at ICI Homes suggest Plantation Bay Golf and Country Club in Ormond Beach. It's a 3,600-acre community with two golf courses, two clubhouses and miles of hiking trails, all within a four-mile, 10-minute drive to the beach.
The best part of all the above — if you're a social person — is the communal opportunities at Plantation Bay. The community's sheer size means you'll have lots of neighbors, and its smorgasbord of activities provide natural meet-and-greets.  Here's the lowdown on living socially at Plantation Bay.
Get Physical
Working out or participating in your favorite sport is a great way to meet like-minded folks. Plantation Bay's 7,000-square foot fitness center is the place to start, whether for classes and group activities, personal training sessions, or a good old-fashioned weightlifting session.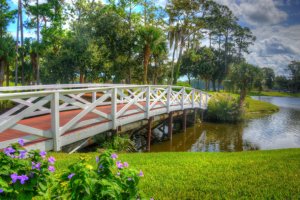 Outside the classic brick low-country-style facility, 10 tennis courts are adjoined by pickelball and bocce ball courts. An outdoor basketball court is tucked across the parking lot. Two swimming pools — a lap pool and zero entry free-form pool — are attended by lounge chairs which beg to be flopped on. The pool pavilion also hosts parties and special events. If you need solitude and pampering after hours of active social interaction, the fitness center's spa offers an impressive menu of services.
Go Explore
Connected by miles of sidewalks and trails, Plantation Bay is the perfect backdrop for hikers, cyclists and dog walkers. You can run, walk or ride for hours through beautifully landscaped neighborhoods, past golf-course vistas and under tree-canopied trails, and it's a good way to catch up with neighbors and friends.  Join a walking, cycling or running group or organize one.
The Clubhouse Scenes
Plantation Bay's two golf clubhouses, Club de Bonmont and Prestwick, are hubs of daytime and nighttime activity. In the morning, early-bird golfers assemble for tee times. At midday, member residents grab sandwiches and chew the fat.  The back-of-the-house veranda that overlooks Lake de Bonmont (and gorgeous sunsets), and Prestwick's paved patio overlooking a large, peaceful pond, are made for end-of-round or happy-hour gatherings.
How about dinner at either club? Why leave Plantation Bay when you can dine so well "at home" without the reservation-and-wait-list hassle elsewhere?
How to Get Social
Membership — completely optional at Plantation Bay — is the key to enjoying all those awesome amenities. Even better? You have generous choices. Go all in if you like — a full membership gives you unlimited access to everything. Or, tailor it by choosing a fitness, sports or social plan. Initiation fees are ridiculously affordable compared to many country-club communities in the region, plus you can decide how much of a social butterfly you'd like to be.
Ready to get social in a new Florida home? ICI Homes has you covered. Start here.