We're talking the Ormond Scenic Loop & Trail, which you may not know about even if you are a Plantation Bay Golf & Country Club resident, and which you need to know about if you're buying or building a new custom Florida home here.
The Ormond Scenic Loop & Trail is a beautiful 34-mile drive through parts of Plantation Bay's hometown,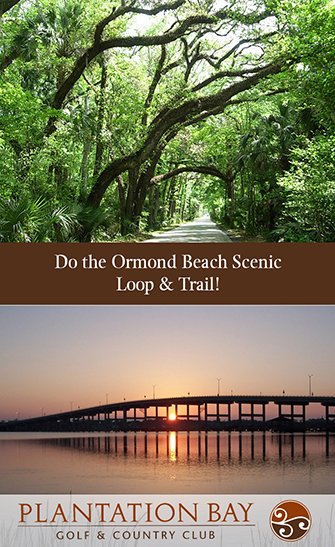 nearby Ormond Beach, but mostly along two-lane backcountry roads.
Locals know it as "the Loop." That's partially because the full name is a mouthful, but map-wise, it really is a loop. There isn't a beginning or ending point. You can jump on it at multiple places and explore to your heart's content, or drive all 34 miles back to your starting point.
The natural vistas are stunning — jaw-dropping scenery that encompasses rivers, marshes and the Atlantic Ocean. The Loop offers access to beaches, state parks and historical sites, but the landscape, as it likely looked decades and decades ago, is the star.
For Plantation Bay residents, the Loop is at your doorstep. Turn right out of the community's main entrance onto Old Dixie Highway, head east across Interstate 95, past the Public shopping center, and you're on the Loop.
Here's our tips for enjoying the Loop's watery views.
Details about the Loop
The Ormond Scenic Loop & Trail is part of the Florida Department of Transportation's Florida Scenic Byways program.
As of this writing, that's 26 state routes that are designated scenic byways. Its purpose to highlight Florida's many natural, historic, cultural, recreational and scenic resources along these roads.
The Loop is one of 11 scenic byways in the Central Region.
What you'll see on the Ormond Scenic Loop & Trail
Water, water everywhere. Once you're on Old Dixie Highway, continue south through tunnels formed by massive live oak branches.
Glimpse tidal creeks shimmering near the pavement. Wetlands — marshes and such — stretch for miles, punctuated by palm trees and palmetto bushes. You'll pass Bulow Creek State Park and Tomoka State Park, which both contain hiking and paddling trails.
When Old Dixie Highway reaches Ormond Beach, head east on Granada Boulevard (the Loop's southern boundary) and turn left on John Anderson Drive for the return drive along the Halifax River. Or, keep going to A1A, Florida's Atlantic coast highway, to "Loop" back to the north.
Take the Loop to the beach
It's the fastest route from Plantation Bay and also serves as the Loop's northern boundary.
An early morning drive or bike ride may yield spectacular sunrise photos over creeks, rivers and marshes. A return drive or ride west in the evening does the same for sunsets.
Once on Old Dixie Highway, turn left on Walter Boardman Lane. Turn right on High Bridge Road and follow its twists and turns — carefully — until you cross the small drawbridge over the Atlantic Intracoastal Waterway. The beach at North Peninsula State Park is straight ahead.
Ready for your Plantation Bay lifestyle? Talk to us here.