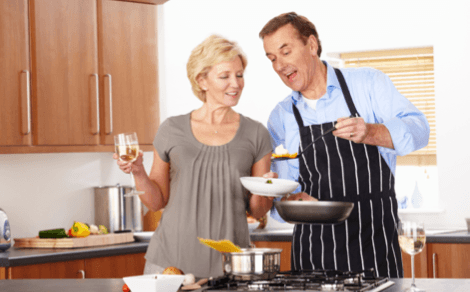 One of the great aspects of life in Plantation Bay is all of the exceptional dining options available in nearby Ormond Beach.
One option just a quick 15-minute drive away is Frappe's North. Located on Granada, Frappe's North is a popular local restaurant that serves "organically groovy" food made from all fresh ingredients.
The ever-changing seasonal menu is the creation of Chef Bobby Frappier. His wide variety of skills make for an interesting menu that is both fresh and creative.
Describing his food as "organically groovy" is his way of expressing his passion for using ingredients that are always fresh and organically grown when possible.
Some of Chef Frappier's signature dishes include Wild Forest Salad, Bobby's Panned Chicken and Shrimp, Jambalaya, and the Chocolate Bomb a la Mode dessert. Chef Frappier is also well known and respected for his fantastic soups that demonstrate his level of talent and skill in the kitchen.
The restaurant is open for lunch from Tuesday through Friday and dinner from Tuesday through Saturday. There is a special wine tasting event on the first Tuesday of every month that requires reservations.
Cooking Classes
But Frappe's is not just a great place to eat.
The restaurant has been hosting cooking classes with Chef Bobby Frappier for the past ten years, and a lot of Plantation Bay residents have taken part.
These classes provide a fun, social environment to get some hands-on education about creating meals of your own.
Chef Frappier learned how to cook from reading cookbooks and watching his mother, but you have the opportunity to learn directly from him. There is no minimum cooking experience required for these classes. Chef Frappier has been known to teach basic culinary techniques to beginners while at the same time pushing expert level chefs beyond their comfort zones.
Each of the cooking classes creates meals based on different themes. Previous classes have focused on soups, appetizers, grilling, and fish themes. One of the more recent classes was called "Bobby's Baja Kitchen."
Those students prepared southwest ranchero recipes like Sangria Marinated Skirt Steak, Guacamole Chile-Crusted Shrimp in Grilled Pineapple Sauce, Chicken Enchiladas, and Bobby's Kicker Ranchero Sauce.
Regardless of your cooking ability, cooking classes at Frappe's provide a fantastic environment to spend time in a social setting with friends or your loved one. Cooking classes can be a great way to relax with friends you already have or to meet new people who share you passion for great food. Everyone enjoys hanging out in the kitchen, and the kitchen at Frappe's North is stocked with fresh ingredients, plenty of wine, and a world-class chef.
Classes are held on weekends at the restaurant. You can get more information by contacting the restaurant directly at 386-615-4888