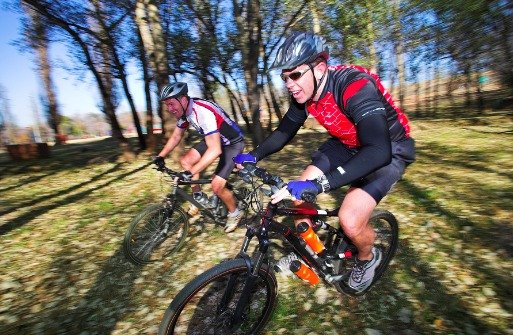 Plantation Bay residents who enjoy riding bicycles and are looking to step up their riding in terms of either difficulty or competitiveness are definitely going to want to check out the Flagler Area Cycling Enthusiasts.
This local club promotes cycling in Flagler, Volusia, and St. Johns counties, where they currently maintain five unique bike trails all within comfortable driving distance of Plantation Bay.
They also host regular races and events throughout the area.
Let's take a closer look at the different aspects of each of the club's trails:
Mala Compra Trail
The Mala Compra Trail is a 5.5-mile loop along scenic A1A. The trail starts and ends at Bing's Landing, which is located right on A1A just three miles north of the Palm Coast Parkway.
This trail is rated moderate to advanced because of the challenging climbs, quick descents, and rock gardens. One of the key features of the Mala Compra Trail is that there are several sulfur springs located along the trail that add to the environment.
Following their ride, many bikers will head over to the ice cream shop and hamburger stand located across the street from Bing's Landing for lunch or dinner.
Chuck Lennon Park Mtb Trail
Located right next to DeLeon Springs State Park in DeLeon Springs is Chuck Lennon County Park.
This is where you will find the 6-mile long Chuck Lennon Park Mtb Trail, which is rated for novice to intermediate riders.
There are actually four different trails located here, and all of them are built on fast, hard packed clay. Riders will appreciate the beautiful mix of palm trees and tropical hardwood trees in this area.
Spruce Creek Trail
The Spruce Creek Trail is seven miles long and is rated for novice to intermediate skill level riders. It is located along Martin's Dairy Road in Port Orange.
For the most part, this is considered a pretty easy ride that is mostly through shaded areas. There are only a few tricky areas, but the sugar sand can be difficult during dry seasons.
The biggest selling point for this trail is the incredible overlook riders will encounter about halfway through the trail.
Moses Creek Trail
At only four miles long, the Moses Creek Trail is a shorter trail, but it is packed with plenty of difficult elements, making it rated for intermediate riders. It is located close to the beach between Flagler Beach and St. Augustine, just off of A1A.
This is a newer trail, so it is still a bit of a work in progress, but there are some very interesting bridges and other technical features involved in the ride.
Blue Springs State Trail
Rated for novice riders, the Blue Springs State Trail is a great place to work on improving your biking skills. Located in beautiful Blue Springs State Park, the scenery surrounding this trail is absolutely stunning. There are a total of four miles of two-way trails here, and many more miles of other riding opportunities.
The Flagler Area Cycling Enthusiasts are working hard to maintain each of these trails, and they are also constantly on the lookout for opportunities to build new trails.
When you are ready to take your trail riding to the next level, this is one organization that you can count on to help you get there.
See you out on the trails!