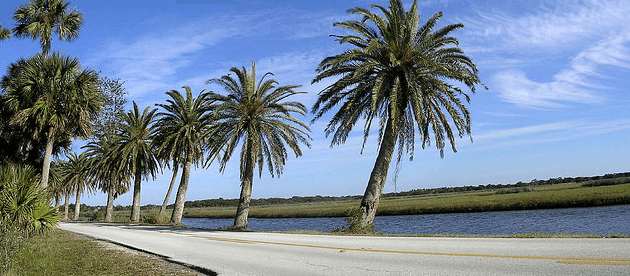 The Ormond Scenic Loop & Trail, which locals refer to simply as "The Loop," is a double loop of roadways that runs from Ormond Beach almost all the way up to Flagler Beach.
The Loop includes stretches of Ocean Shore Boulevard, John Anderson Drive, Old Dixie Highway, and North Beach Street. This gives visitors access to great Florida beaches on the Atlantic Ocean, three different state parks that all offer something unique to experience, and all of the historic beauty of Ormond Beach.
Here are some of the highlights that you will find along The Loop:
The Northern End of The Loop
Starting in the northeast corner of The Loop, you will come across North Peninsula State Park. This beautiful state park is located right on the beach along State Road A1A. Park visitors can spend the day here swimming, relaxing on the beach, fishing, and bird watching.
During certain times of the year, it is possible to see different types of whales that are migrating towards warmer waters. It is also a good place to see Loggerhead, green, and leatherback turtles that use the sandy beaches for nesting.
Heading west on Highbridge Road and then on Walter Boardman Lane will take you past Burlow Creek State Park. This 5,600-acre park boasts one of the largest live oak forests along Florida's east coast. The Fairchild Oak tree is the oldest in the forest at more than 400 years old.
The park also contains a seven-mile nature trail that allows visitors to observe white-tailed deer, barred owls, and raccoons. The trail also passes the historic ruins of the Bulow Plantation, which was destroyed in the Second Seminole War in 1836.
The Southern End of The Loop
From Bulow Creek State Park, following Old Dixie Highway and North Beach Street to the southern end of The Loop will take you past Tomoka State Park. This park features a half-mile nature trail, and also offers water activities like canoe rentals and a boat ramp for river access. The park is a great place for bird watchers to see more than 160 different types of birds and is also a protected area for West Indian manatees.
As you reach the southern end of The Loop at Granada Boulevard, there are plenty of things to see and do right in Ormond Beach. There are quite a few interesting historical buildings like The Ormond Yacht Club, The Casements, and the Ormond Beach Firehouse. There are also a number of excellent dining and shopping options in this area.
While all of these parks and attractions offer visitors great experiences, the primary appeal of The Loop is the natural beauty that you get to experience while driving along each of the roads that comprise it. Even if you don't bother to stop anywhere, just riding through the tree canopies and along the beach is an amazing experience that is well worth the time!
Image credit: "Loop" by Mark Lane via flickr