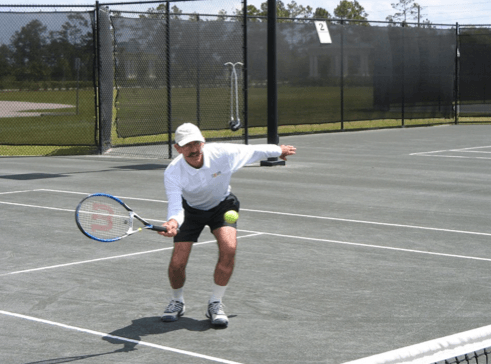 The Plantation Bay Golf & Country Club was granted a tremendous honor recently when our Director of Tennis, Dave Brown was named the Daytona Beach District's United States Professional Tennis Association "Pro of the Year." The announcement was made at the recent USPTA convention.
Dave was recognized for his significant contributions to the Daytona Beach tennis community, including serving as Tournament Director for the USPTA Champion of Champions Tournament, serving as Program Director for the Tennis Xpress after-school tennis program, and also serving as president of the Greater Volusia Tennis League.
Recently we had the opportunity to discuss this and many other impressive accomplishments that Dave has assembled over the course of his career. He is a man who truly loves the game of tennis, and that love shows through in all aspects of his life.
A Lifelong Love of Tennis
When talking with Dave, it becomes very clear that tennis has long been a passion of his. He started playing when he was only five years old and has never looked back. He was a fantastic high school and college player, playing #1 singles at Christian Brothers Academy in Lincroft, NJ, and then at St. Mary's College in Maraga, California.
Since college, Dave has logged more than 25 years experience as a tennis pro at resorts, clubs, and communities in both Colorado and Florida. In February of 2009, he took on his role as Director of Tennis at Plantation Bay.
Dave also shares his love of tennis with his entire family. The Browns were named "Tennis Family of the Year" by the United States Tennis Association in 2011. Dave's son, Aaron is also an accomplished player and teaching professional. The two of them have combined for many accomplishments in Father/Son doubles.
Tennis at Plantation Bay
When asked specifically about tennis at Plantation Bay, Dave was very optimistic about the future. He explained that the sport is continually growing in popularity. He believes that the state of tennis at Plantation Bay is very healthy, citing the 12 adult teams that regularly compete in local league tennis matches. He also mentioned all of the regular socials, round robins, team lessons, drills and clinics.
Another strong point of emphasis for Dave is the summer tennis camp. He explained that the small nature of the camp makes it an excellent environment for participants to learn and grow their game.
When asked about the upcoming majors, Dave picked Roger Federer and Serena Williams as the two players who are currently playing the best tennis in the world.
One thing that Dave didn't mention was that he still holds national USPTA rankings both in singles tennis and in Father/Son doubles. He also neglected to mention that this is not the first, but actually the third time that he has been named USPTA District "Pro of the Year."
The combination of experience, skill, family values, and humility that Dave Brown brings to the court makes it easy to see exactly why the USPTA would name him "Pro of the Year" once again.
We are truly lucky to have him as a contributing member of Plantation Bay.