Looking for a Florida community with an active lifestyle? Plantation Bay Golf and Country Club, located between Palm Coast and Ormond Beach, will keep you moving from daylight until dusk — and sometimes beyond! The activity smorgasbord includes golf, tennis, swimming pools, POP paddle tennis, pickelball, bocce ball, a fitness center with spa services and miles of hiking and biking trails.
Out of breath yet? Come check us out. Plantation Bay is a 3,600-acre gated community set within beautiful coastal wetlands and forests, and only minutes from another popular activity — a day at the beach.  Read on for a sampling.
Golf is King at Plantation Bay
That's because the community boasts two 18-hole courses . The popular Club de Bonmont course reopened in October 2016 after a significant renovation. The championship-caliber Prestwick presents constant challenges.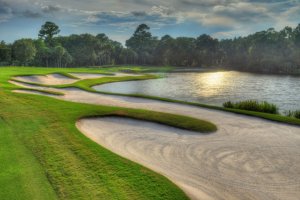 Tennis is a Serious Racquet
As evidenced by 10 in-demand courts and non-stop league play. Stop by for a free lesson or a practice session with the ball machine. Join an in-house league or one of eight Plantation Bay teams that participate in the local Greater Volusia Tennis League. Other options include tennis clinics and summer tennis camps.
New POP Tennis Program
POP tennis — or paddle tennis — isn't new. It just has a new name. The 100-year-old game features shorter courts, shorter racquets and and a lower compression ball. The scoring is the same, except for the one underhand serve that's permitted. Benefits? It's quick to get a game together. POP tennis can be played on a regular tennis court with the same rules. Because its physical dimensions are smaller, people of all ages and fitness levels can play together and become more proficient, faster. Contact the tennis center for more info on weekly sessions and clinics.
New Pickleball Program
Not familiar? You should be. Pickelball is fast becoming a Plantation Bay favorite. Similar to POP tennis, tennis, table tennis and badminton, pickelball is played on a smaller court similar to tennis, but more the size of a badminton court, with a lower net than badminton. Players use solid paddles and a perforated plastic ball. Fun fact: pickelball was invented in 1965 in Bainbridge Island, Washington.
All That Other Stuff
Isn't mere "stuff." It's major perks of living an active Plantation Bay lifestyle. Play the centuries-old Italian bowling game of bocce ball (sip Italian wine for authenticity). Schedule a sports massage at the fitness center spa. Hop on your bicycle and explore the neighborhood. Or, find your inner calm with yoga classes. Turn laps in the lap pool, then soak up the Florida sun in the zero-entry free-form pool.
Tired yet? Exactly! Contact ICI Homes to sample the Plantation Bay lifestyle for yourself. A Discovery Tour allows you to "try before you buy." Click here to start.