How do you ensure that a mature yet still booming master-planned community remains at the forefront of new-home buyers' lists?
You keep making that community better than it was before.
Such is life at ICI Homes' Plantation Bay Golf and Country Club in Ormond Beach. It's a massive community that continues to welcome new residents, and its staff, homeowners associations and membership continue to add to and improve all the great, existing amenities.
Why wouldn't you have a look if you're seeking a new custom home in east central Florida?
You should!
Here's the scoop on more awesome things to do at Plantation Bay.
More options for golfers
One reason Plantation Bay is so big — 3,600 total acres, half of which are undeveloped — is its 45 holes of golf. That's two full courses and one nine-hole course.
Those courses are more popular than ever, especially since two of them — the 18-hole Prestwick and and nine-hole Westlake — have been tuned up beautifully with new grass applications, new bunker sand, and perimeter clearing and hardscaping to open up, and improve, already impressive sight lines.
But that's not all!
There's a new comfort station between the 13th and 14th holes on the Prestwick course. It serves as a lightning shelter and a new water station.
Plantation Bay's other 18-hole course, the Club de Bonmont, is home to a complete practice facility, which recently added a new golf instruction building. Resident golfers now can enjoy all the latest instructional technology and golf equipment, plus a new club-fitting center.
New cabana bar
This cool-down spot is located at Plantation Bay's wellness center, which is home to a freeform, zero-entry, resort-style pool and a seasonally heated lap pool. The new cabana bar is poolside, which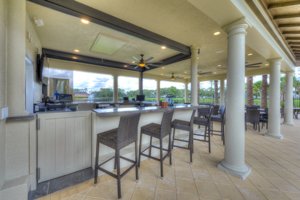 makes it a breeze to grab a bite to eat and some refreshing sips during pool time or chill time after a fitness-center workout or spa treatment.
But mostly it's a fun, covered place to lounge with family and friends under swirling ceiling fans.
You also can dissect all those golf shots you did or didn't make.
New golf membership
It might be just the impetus you need to purse a new custom home at Plantation Bay.
A Young Executive Membership (ages 25-45) is now available. Choose family or single membership; up to you. There are numerous perks of this particular membership category, but if you're in that age range, here's the one that may count the most: unlimited golf.
Membership tailored for you
There's almost a dizzying array of activities available for Plantation Bay residents. Many are free and open to everyone, while others do require memberships (i.e., you need a membership to enjoy the golf courses).
So when you're researching the community, whether online from afar or during a visit, don't forget the particulars on the various membership packages (which are completely optional).
A variety of membership options means you can pick what's appealing to you and your household rather than anteing up for only one mega-option that might not be a great fit.
It's one more perk of Plantation Bay living.
Ready for your Plantation Bay lifestyle? Start the conversation here.