Barely 10 minutes east of Plantation Bay's main entrance — past massive old live oaks, historic sites, marshes and the Intracoastal Waterway — lies North Peninsula State Park.
This small state park is right on the Atlantic Ocean and requires no admission,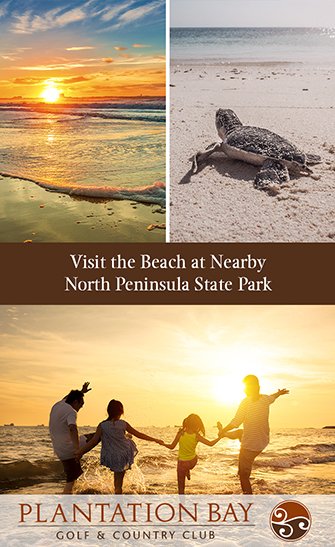 but it packs a lot of activity and gorgeous old-Florida scenery into its 557 acres. Best of all, it's a quick commute for Plantation Bay residents — only 5.7 miles away.
Ride your bicycle or motorcycle. Stuff a beach towel in your backpack or saddlebags. Zip over for a sunrise no matter how you choose to get there and be awed by nature's spectacular colors.
Or, return after a full beach day or dinner at a nearby beachside eatery, and be awed in reverse by an equally spectacular sunset.
Here's how to enjoy Plantation Bay's closest beach.
How to get there
We're not kidding when we say North Peninsula State Park almost is a neighbor.
Exit through Plantation Bay's main gate and turn right on Old Dixie Highway. Go approximately 1.4 miles, then turn left on Walter Boardman Road. Follow it to High Bridge Road and turn right on High Bridge. You'll soon cross the drawbridge over the Intracoastal Waterway and spot A1A, Florida's Atlantic coast highway, and the ocean, straight ahead.
At that point, you're in North Peninsula State Park. If you drove, park in the Smith Creek Landing lot just after you cross the Intracoastal; it's on the left. You also can turn left on A1A and use the lot near the park's boardwalks to the beach.
Helpful hint: the Landing contains a bicycle maintenance station for cyclists.
First things first
North Peninsula State Park boasts three miles of unspoiled, secluded beach. The golden, reddish coquina sand is a beautiful contrast to the Atlantic's blue-green surf and you can walk undisturbed for miles.
But a beach means other things, too. Bring chairs, umbrellas, sunscreen and a cooler. Camp out for a few hours or a day of glorious surfing, swimming, shelling, surf-casting and paddleboarding.
You'll see shore birds circle overhead. Don't be surprised to spot sea turtle nests on your beach walks. They're marked for protection by park volunteers (Do Not Disturb). Turtle nesting season is from May through September. If you spot hatchlings scurrying toward the surf, it's a photo-and-video-worthy moment. Just don't get in their way, and don't touch!
Other fun activities at North Peninsula State Park
Birding, boating and fishing are popular pursuits at North Peninsula State Park. Put in a canoe, kayak, or fishing boat at Smith's Creek Landing.
Especially fun for hikers and birders is the two-mile Coastal Strand Trail, which begins at the Landing and winds through forests and along Smith's Creek. The Landing also is great spot to view ongoing salt-marsh restoration in the park.
Ready for your Plantation Bay lifestyle? Talk to ICI Homes here.