What do you think of when you hear the word "resort?" Most of us likely think "swimming pool!" Memories of family vacations or trips with friends — especially in warm-weather locations or during spring and summer breaks — trigger fun flashbacks of cooling off daily in an awesome pool.
But, how about all those fun hours many of us probably spent bicycling? Shooting hoops? Whacking tennis balls and even golf balls? Warmer weather, especially during the summer, means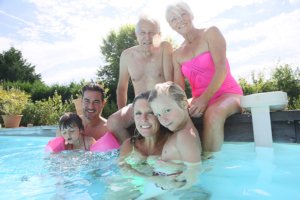 outside fun and frolic no matter how hot the thermometer. And, if there's a pool involved, there's no better way to cool down afterward.
If you're house-hunting in Central Florida, you can live an amenity-filled, resort lifestyle at Plantation Bay Golf and Country Club in Ormond Beach. It's a great place for all ages to live and play outdoors, then beat the heat at a fabulous pool pavilion.
Allow us to convince you.
First, get outdoors
Want to work up a sweat before cooling off? Tackle Plantation Bay's 45 holes of golf — two full courses and a nine-hole layout — or pound the fuzzy yellow ball on one of its 10 tennis courts.
Family-friendly bicycling is another way to enjoy Plantation Bay's natural beauty. So is walking, running or strolling with friends. Miles of hiking, biking and fitness trails can keep you exploring for hours, either on two wheels — four wheels if you use a golf cart — or your own two feet.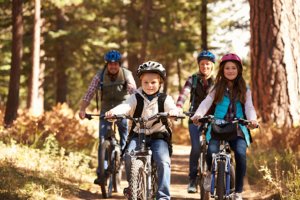 Another bonus of grabbing the gang and your bicycles is that cycling is a cool sport in more than one way. As long as you're moving, you're also moving air as the miles pass, thus creating your own refreshing breeze. In the summer, riding with family members or meeting neighborhood friends for a group ride, often is much nicer weather-wise earlier in the morning and evening.
Regardless of what time you ride, it's easy enough to pause under one of the glorious old oaks or pines that shade Plantation Bay's public landscapes. Parks and green spaces throughout the community create natural rest stops, some of which offer handy benches.
Make sure everyone's bicycle has a bottle cage for an insulated water bottle — even youngsters on training wheels — in order to safely rehydrate when it's time to stop and rest. Cool water will refuel you for the next part of your ride around Plantation Bay.
Then, jump in the pool
It's almost the best part of living in a community like Plantation Bay, right? You'll find a dandy pool complex here — a seasonally heated lap pool for water workouts, plus a zero-entry freeform pool that makes splashing around a breeze both for kids learning how to swim, and for older folks who find it physically easier to wade in.
But, it's not only the pool. Innumerable lounge chairs give you the option of soaking up the Florida sunshine or flopping in the shade of palm trees. The entire pool deck overlooks a lovely Plantation Bay lake. Adults can even enjoy their version of "adult swim" at the new pool cabana bar at the adjacent wellness center.
C'mon!
Ready to find your family-friendly resort lifestyle? ICI Homes is Florida's Custom Builder. Talk to us here.