With the dining and social scenes at two clubhouses, special community events, plus the supermarket half-gallon in the freezer, why would Plantation Bay Golf & Country Club residents ever want to go out for ice cream?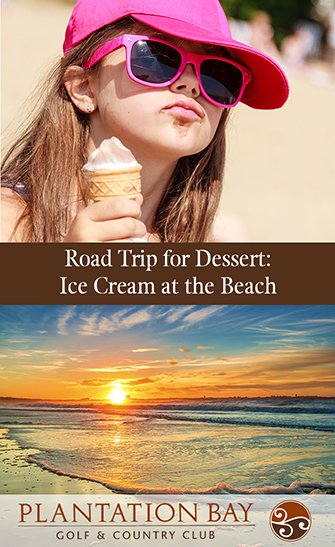 Because eating ice cream at the beach is different than scooping up your favorite brand in the kitchen! Even when you love your new Plantation Bay kitchen!
Enjoying cool, creamy deliciousness within sight of breaking waves and golden sand just can't be beat. It's also something Plantation Bay residents can do almost every day (and early evening) thanks to the community's proximity to nearby beach towns.
When you live in this signature master-planned community, you're scarcely 10 minutes from surf and salt water, and that's if you stop for a golf cart crossing the road on the way to the next hole. Even better? Plantation Bay's convenient location near Interstate 95 places it between two hometowns — Ormond Beach, slightly south, and Flagler Beach, only 10 miles north.
Both sport yummy ice cream options and both are worth road-tripping to for dessert. Here's how.
Flagler Beach
Jump on I-95 and head north. After a few minutes and miles, exit at State Road 100 and head east for three miles. Voila. There's the fun and funky old Florida town of Flagler Beach.
You have three ice-cream choices here. Sally's Ice Cream, The Waffle Cone and The Cone Zone are locally owned and operated, and stocked with plenty of flavors and toppings.
Sally's Ice Cream, on the northwest cover of A1A and North 4th Street, sits directly across from the Atlantic Ocean. It stocks traditional favorites and newer vegan choices, along with soft serve.
The Waffle Cone, at 102 South 4th Street, is a half-block from the beach. Get a fat scoop in a homemade waffle cone or cup and walk your treat to the beach. Alternately, plop in one of the interior turquoise booths.
The Cone Zone, at 105 North Oceanshore Boulevard (A1A), also is within sight and scent of the beach. Homemade waffle cones are here too, along with blue, purple and pink sugar cones for kids (or adults!) Look for the yellow and pink building.
Ormond Beach
It's also a quick 10-mile jaunt — a little more or less — to Ormond Beach. Again, jump on I-95. Head south this time and exit at State Road 40, or Granada Boulevard. You're looking for Hershey's Ice Cream of Ormond Beach, another locally owned establishment.
There are two locations: Hershey's Ice Cream East and Hershey's Ice Cream West. The latter is right off the interstate in the Publix shopping center. The former is a few miles east. Take Granada Boulevard all the way to A1A. The east location tucked in the shopping center on the north corner of Granada and A1A, which makes it easy to slurp down your treat as you stroll Ormond Beach's vanilla sand.
Ready for your Plantation Bay lifestyle? Talk to us here.