There are so many fun activities available for Plantation Bay Golf & Country Club residents that we get dizzy just contemplating all the possibilities.
If you think that's a bit hyperbolic, check out all of the great benefits you get from a Plantation Bay membership opens in a new window. Add that to all the special events available on our monthly calendars, and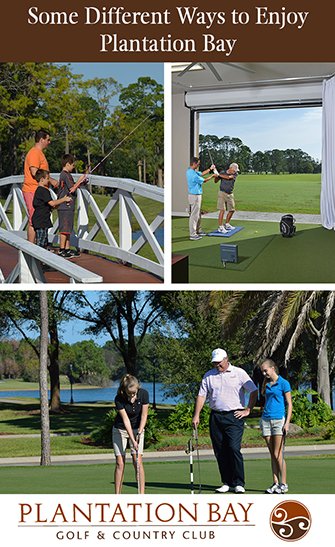 you've got an endless supply of things to do.
Granted, those busy calendars come from a position of strength. Plantation Bay's 3,600 acres support 45 holes of championship golf opens in a new window, two clubhouses, a golf teaching facility, tennis courts opens in a new window, pickelball courts, basketball courts, a wellness center with a full-service spa opens in a new window, a fitness center and a resort-style pool opens in a new window and cabana bar.
"Goodness!" you might say. Yes, it is.
Allow us to spotlight a few activities that illustrate why living here is so rewarding.
Golf beyond the member-guest
With such amazing facilities, Plantation Bay's men's and women's leagues and tournaments are a focal point of many residents.
But there's also an emphasis on passing the game to future generations. Each summer, Plantation Bay's professional golf staff hosts three camps for youngsters ages 7-16. The first four-day session is in June. The second is in July, and finally, a third in August.
Kids receive detailed instruction on all the game's basics, with an emphasis on fun and learning. If you're researching a move to this part of Florida and have kids or grandkids interested in golf, Plantation Bay is a great place to be.
An artistic bent
Did you know this community is big and talented enough to host its own art show?
Each year, Plantation Bay residents and their guests gather to shop and exhibit original works at the Club de Bonmont clubhouse. The 2019 event took place in March and was the 14th annual community art show. How's that for staying power?
Future resident artists and art shoppers take note: you'll find musings in all mediums, graphics, sculptures, paintings, prints, photography and much more.
Fun with furry friends
Plantation Bay is a popular choice with pet parents. This is clear by all the dogs and their human walkers you'll see throughout the community.
Enthusiasts get the chance to share their fun and simultaneously do good with an annual Pet Parade and Adoption Event around Halloween. It includes a costume contest for resident pooches — yes, the photos are ridiculously cute. Residents also have the opportunity to give an adoptable pet a new home via Second Chance Rescue. Or, donate to the cause.
We do celebrations right
Finally, here's further proof why a Plantation Bay lifestyle is so rewarding.
During the annual Music in the Park event in December 2018, Plantation Bay residents celebrated their community's 2,000th home with a "Come Cruise With Us" theme.
It was an afternoon filled with fun and lawn games, including Hula Hoop and limbo contests, corn hole and life-sized Jenga, and cruise-themed photos. Hula Hoop and limbo winners received a $50 Visa gift card. The grand prize — a four-day, three-night cruise — was raffled off.
Each year sees a different theme – 2019 was a 50's themed celebration, with a rock band, classic car display, poodle skirts, and a twisting contest.
Ready for your Plantation Bay lifestyle? Talk to us here. opens in a new window