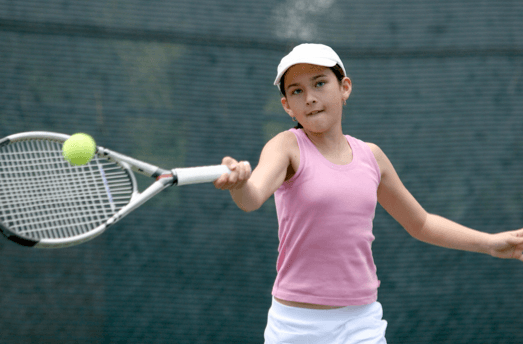 The summer months are right around the corner, which means that plans are already in the works for this year's youth Summer Tennis and Swim Camp! This camp has become one of the most popular events of the summer for many of our younger residents.
Not only is the camp a great summer activity for local children to participate in, it also provides a way to teach them how to properly use all of the first-class facilities here at Plantation Bay. Campers will gain first-hand experience using our championship-caliber tennis courts, swimming pools, basketball courts, and the air-conditioned exercise and game rooms.
The camp is run by USPTA Master Professional, Dave Brown. Dave has over 25 years of experience playing and coaching tennis, as well as running tennis camps. During the camps, he focuses on teaching fundamentals, strategy, and sportsmanship in a way that campers can later work on these skills on their own.
The camp isn't all drills and fundamentals though, Dave makes learning tennis fun through a number of different types of games that were designed to make learning tennis skills fun. Campers are also treated to swimming instruction at the end of each day, which can be quite refreshing!
Camper Eligibility
The Summer Tennis and Swim Camp is open to all children between the ages of 5 and 11 who are interested in learning more about tennis and swimming while having a great time in the process.
The cost to attend the camp is based on a per child, per week basis. Residents of Plantation Bay will receive a discount, but non-residents are also welcome to attend. There is also a discount for multiple children from the same family.
Camp Schedules
Registration for this year's Summer Tennis and Swim Camp is already underway. The first week of camp starts on June 16, and then there will be a weekly session every week after that through July 25. Registration will be accepted as long as there is space available, but that space in each camp is limited, so you will want to register as soon as possible.
If scheduling is an issue, there is also an option that allows campers to attend on a per day basis, and there is a summer pass option that lets a camper attend on 10 different days throughout the summer. There are also discount options available for campers interested in attending multiple weeks.
If you have any questions about the camp or would like to register, contact Camp Director Dave Brown at 386-236-4292, or email him at [email protected] and he will be happy to help you!
The Summer Tennis and Swim Camp is a great opportunity for the children of Plantation Bay to socialize and learn two great sports in a positive and safe environment throughout the summer months. Tennis or swimming could become a lifelong passion for any of these campers, and learning the sports together can help them to form fantastic new friendships!