For those Plantation Bay Golf & Country Club residents who require more than three golf courses, two clubhouses, a wellness center with a full-service spa, fitness center, two resort-style swimming pools and a cabana bar,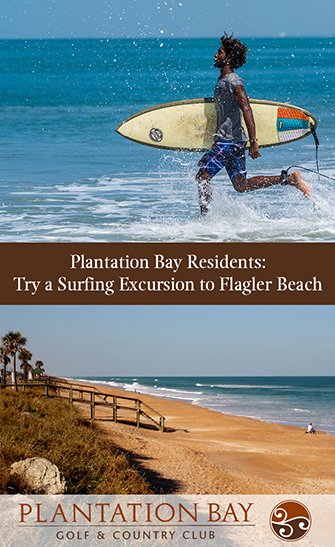 their premier master-planned community in Ormond Beach also happens to be right around the corner from pristine Atlantic beaches.
You know what this means. Surf's up!
Florida's east central Atlantic coastline is a longtime favorite of professional, amateur and recreational surfers. The ocean currents along this section of Florida generate some serious waves and serious surfers know where to catch them.
One of those surfing hotspots happens to be Flagler Beach, Plantation Bay's second "hometown." Surfing is a fun activity to add to anyone's beach repertoire, specially if Plantation Bay residents want to explore the possibility.
So grab the sunscreen, snacks and beach gear, and we'll help you plan a surfing excursion to Flagler Beach.
Where you're going
Less than 15 minutes and 10 miles — it's that easy. Exit Plantation Bay's main gated entrance and head north on Interstate 95. Take Exit 284 and turn right (east) on State Road 100.
Go three miles until State Road 100 ends at the traffic light at A1A, Florida's north-south Atlantic coast highway. The beach and the historic Flagler Beach Fishing Pier will be in front of you, in downtown Flagler Beach. Turn right (south) and cruise down A1A to find a free beachfront parking space. Hint: they fill up fast.
What makes Flagler Beach a surfing hotspot
Flagler Beach is a classic, old-Florida beach town. People who live in the residential neighborhoods west of A1A stroll from their doors to the beach, often with surfboards in tow.
The ocean, while calm enough to swim and play in, also produces impressive waves under the optimal weather and tidal conditions.
On those days, you'll see crowds of surfers astride their boards just offshore, waiting for big breakers to form. Their exploits aren't lost on beachgoers, who enjoy the show. Flagler Beach also hosts annual surfing competitions.
Another reason to beginner-surf at Flagler Beach: lifeguards are on duty May through August.
How to get started
Haven't surfed before? Lessons are the way to go. If some of your Plantation Bay friends and neighbors are experienced surfers, ask them for help and guidance. Even if you're a good swimmer and do-it-yourselfer, don't go solo while making your first surfing forays.
Another way to learn to surf is by contacting surf shops in Flagler Beach. Most offer lessons, rent surfing gear and boards, and can offer helpful info like the 150 feet on both sides of the Flagler Beach Fishing Pier are no-surf zones.
You'll be conquering waves in no time!
Ready for your Plantation Bay lifestyle? Talk to us here.