If you're dedicated to a healthy lifestyle or want to achieve one — and you're also house-hunting in Central Florida — ICI Homes has a solution to both scenarios.
Plantation Bay Golf and Country Club in Ormond Beach is one of our signature communities. We've loaded it up with amenities, one of which happens to be a wellness center.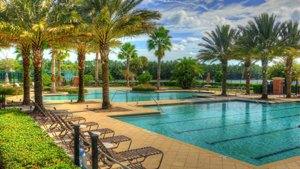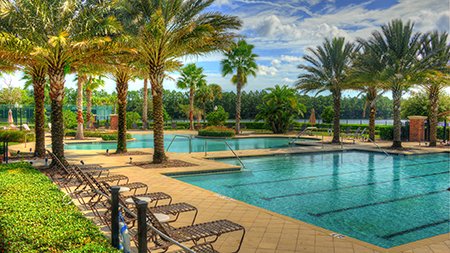 Actually, it's three amenities in one. The Plantation Bay wellness center houses an awesome pool pavilion, a full-service spa (yes!) and a full-service fitness center. Where else can you go on Florida's upper Atlantic coast and find that combo in your own gated community?
You can keep looking. Or, come visit us. Read on for tips on how to be well at Plantation Bay.
Get fit, stay fit
Plantation Bay's fitness center isn't merely stacks of weights, cardio machines and exercise mats. It does contain the pertinent top-line equipment, from ellipticals, treadmills and recumbent bicycles, to free weights, weight machines and all the exercise balls, bands and benches you need. Men's and women's locker rooms include steam rooms and showers.
There's also a studio that hosts numerous classes each day. A fitness director is on site, along with instructors for various disciplines. Personal training sessions are available if you'd like a workout program tailored to your needs, plus the personal attention to keep you motivated.
And those classes…
Practice group therapy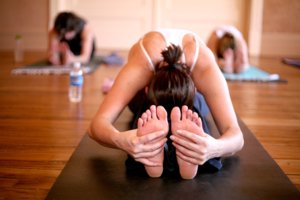 If your idea of a workout includes buddies — why not huff and puff together, right? — you'll want to peruse the daily class schedule at the wellness center once you're settled in your new custom Plantation Bay home.
Choose between zumba dance, stretching, yoga, weight training, water aerobics, classes that focus on strengthening your abdominals and cardio step classes.
There's literally something for everyone. Folks who like to sweat up a serious storm can pound through low-impact cardio step classes. Or, if you have balance issues or are new to working out and want to start slow, Sit and Fit classes incorporate light weights while sitting in a chair.
Yoga's poses are good for all fitness and activity levels, and for all ages. The Plantation Bay wellness center offers beginning yoga and gentle yoga classes, to help you ease into a simple practice that stretches and strengthens your muscles and flexibility.
Cool off in the pools
Notice we used the plural. That's because the pool pavilion boasts two sparkling bodies of water. The zero-entry freeform pool is perfect for everyone, but especially children and older folks who like to ease their way in rather than jumping or diving in.
Only steps away is a seasonally heated lap pool that's open to enjoyment, but certainly for those Plantation Bay residents whose workouts are on the wet side.
The pool pavilion is stocked with plenty of comfy lounge chairs so you can sunbathe after a workout or nap in the shade of a palm tree. Along with its easy-access convenience to the wellness center (remember that full-service spa!), the pool pavilion also overlooks one of the community's scenic lakes.
And, a new pool cabana bar makes it even more fun to be an adult.
Ready to plan your workout as a new Plantation Bay resident? Talk to ICI Homes here.