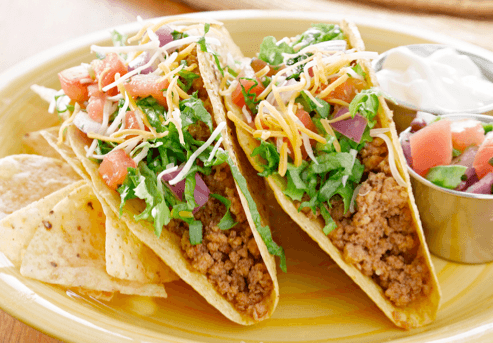 Ormond Beach has no shortage of great restaurants. But where do you go when you want to find authentic Mexican food in Ormond?
Whether you're in the mood for an authentic Mexican feast or just want to enjoy a great margarita to unwind, here are some of the best Mexican restaurants in the Ormond Beach area.
Agave
Located on West Granada Boulevard, Agave specializes in truly authentic Mexican cuisine. The menu here contains quite a bit more than the simple burritos and tacos offered by many so-called Mexican restaurants. Chef's specialties like Pineapple Fajitas, Pollo Poblano, Enchiladas Durango, and Tilapia a la Diabla are what Agave is best known for.
The restaurant also has a full bar containing an excellent selection of Mexican beer and tequila. The margaritas menu has eleven different options, including a Jalisco Margarita that is served with cactus fruit (pickled pear).
La Fiesta
La Fiesta specializes in combining outstanding customer service with some of the freshest ingredients you will find anywhere. The restaurant sits near the corner of North Nova Road and Granada Boulevard.
The menu at La Fiesta features all of the traditional Mexican favorites like tacos, fajitas, burritos, chimichangas, and enchiladas. There are also some more involved dishes like Steak Mexicano and Chile Rellenos, which is two poblano peppers stuffed with your choice of beef or chicken and cheese that are deep fried and topped with salsa and sour cream.
The bar menu here was designed with the tequila lover in mind. There are more than 25 different varieties of tequila. One of the most popular drinks is the El Chingon, which is a classic lime margarita that is garnished with an overturned bottle of Corona.
Maria Bonita
Maria Bonita was named after Mexican actress Maria Felix, who was considered to be the Mexican version of Marilyn Monroe. Located on West Granada Boulevard, this restaurant focuses on serving traditional Mexican food while also serving some Cuban specialties.
Some of the popular entrees at Maria Bonita are Chile Relleno, Enchiladas Suizas, and Pollo en Mole. The Cuban dish Bistec de Palomilla is also very popular. The bar menu features a great selection of margaritas, tequila, and Mexican beer, but the most popular drink here is Maria's Ultimate Mojito.
Pepper's Mexican Grill & Cantina
Pepper's is located on South Atlantic Ave near the Andy Romano Beachfront Park. They specialize in providing a fun environment to enjoy excellent Mexican food where the sauces are always made from scratch.
The menu at Pepper's contains all of the classic Mexican dishes that Americans have come to love. There are many different options to choose from for nachos, fajitas, quesadillas. There is also a great selection of enchiladas and chimichangas, as well as a great combination menu that lets you combine many different options.
As you can see, there is no shortage of great Mexican restaurants located right in Ormond Beach. Make sure you check them out next time you are in the mood for Mexican!